In this new six part series I present responses to essays offered in my course at UNC Charlotte on "John the Baptist." John is the most underrated figure in Christian tradition, rarely given his due as a messiah and inaugurator of the movement Jesus himself arose from. The responses are by my former student, Jeff Poplin, now a USAF Lt Colonel and fighter pilot, graduated with honors from the Air Force Academy, married with children. Jeff wrote them without notes in response to exams given in the course! They offer a good, concise, and rather extraordinary summary of what we covered in the course:
Discuss the portrait (role, teachings, significance, etc.) of John the Baptizer that emerges from the Q Source (Lukan version), including the possibility that Lukan material such as 3:10-14 and 7:29-30 (and maybe even more), may well have been part of the original Q text (included by Luke but excluded by Matthew). Ask yourself: if all I knew was the John of Q, what kind of John would emerge?
The Q source is widely held to be the material common to Luke and Matthew, but not found in Mark. Scholars believe that is was a collection of the sayings of Jesus around the time of 50 C.E. Basing the discussion on the Lukan version of Q, a very distinctive portrait of John the Baptist emerges within the text. It is clear that John plays an important role from the beginning as the Q material begins with him instead of Jesus. In Luke 3:7-9 John is speaking to the multitudes, calling them a "brood of vipers," and somewhat chastising them for not being more involved in the movement and with their own lives. This is the most solid Q example scholars have because it is word for word with Matthew in Greek. For such a document to start with John the Baptist instead of Jesus has strong implications and definitely displays the significance and importance John held to the author/people of the time. John is out in the wilderness of Judea baptizing all that come to him. Q even has John saying in Luke 3:16-17 that he baptizes people with water yet there is one greater than he who will come and baptize the multitudes with the Holy Spirit and with fire. Jesus is considered the leading figure of Christianity, well it was based on him, but nevertheless John is considered one of the major players in the movement and considered significant by the author of Q.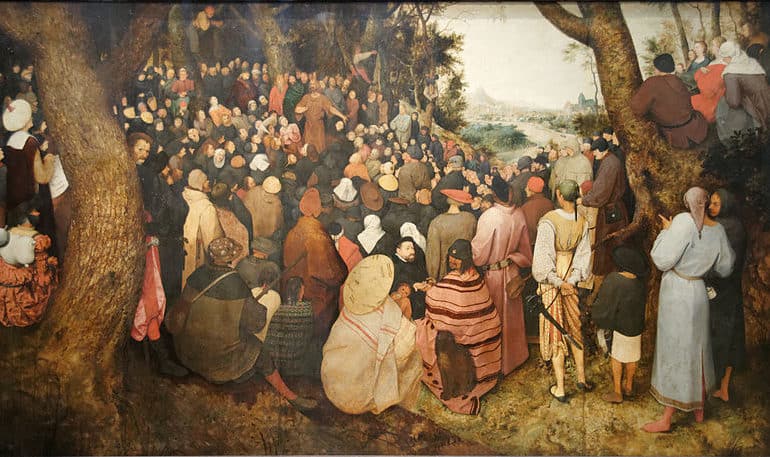 In Luke 7:18-23, one finds John sending two of his disciples to ask Jesus if he is "he who is to come or shall we look for another?" Jesus heals a few people and then sends John's disciples back to tell "John what you have seen and heard." To begin with, John is on the scene before Jesus ever arrives into the picture plus John has his own disciples. He is an important leader of a community of followers in the wilderness, preparing the way of YHVH, and is doing so with his own set of followers independent of Jesus. By Luke 7:24-26 one sees the importance John holds in a question Jesus asks to the crowds about John. This is the main statement scholars have regarding John the Baptist. Jesus spoke to the crowds concerning John asking, "what did you go out into the wilderness to behold?" From this simple question, there are three answers offered; a reed shaken in the wind, a man clothed in soft raiment, and a prophet. After two failures, the people give the answer Jesus was looking for in their third response. "A prophet, yes, I tell you, and more that a prophet."
Being a prophet is the highest rank one can obtain in Judaism, so for Jesus to say John is more than a prophet has strong implications as to his status within the religious community. It shows that even Jesus is of the opinion that John is someone special, doing what the LORD has commanded him to do, and that the people should listen to and heed his words carefully for he is "more than a prophet." Adding to this is Jesus' statement in Luke 7:27 where he is referring to John as the one spoken about in Malachi 3, saying this is he (John) of whom it is written, "behold I send my messenger before thy face who shall prepare thy way before thee." Luke 7:28 contains one of the most important statements about John spoken by Jesus. "I tell you, among those born of women none is greater that John." This simple statement adds considerably to the portrait of John in the Q source. Here is Jesus, considered to be the son of man, speaking of John as the greatest of all those born of women. Being born from Mary, this puts Jesus into that group as well.
The Q source also adds to John's profile by explaining what not eating and drinking mean. In Luke 7:31-34, it states that John has come eating no bread and drinking no wine. This shows the reader that John was a vegetarian and abstained from wine, unlike the Son of man and others who are considered gluttons and wine bibbers. Also an important addition to the role John plays is Luke 16:16 where it reads "the law and the prophets were until John; since then the good news of the kingdom of God is preached, and every one enters it violently." Here is an excellent verse showing the status John was afforded. Reading this, one notices that it is John who has brought a new covenant to the land of Israel and not Jesus. In addition, Luke 11:2-4 has Jesus' disciples coming up to him asking to be taught the prayer John taught his own disciples. Here we have Jesus' own disciples asking him not for his own prayer, but the one John taught his disciples and Jesus begins "when you pray, say…" Preserved here is quite possibly the very prayer John taught his disciples and it is of such importance that the disciples of Jesus wish to learn it too. There are a handful of teachings throughout Luke that are attributed to Jesus but are without any context. Scholars have suggested that these could very well be the original teachings of the Baptist. Some of these teachings are like blessed are the poor (6:20), be merciful (6:32), a blind man can not lead the blind (6:39), do not be anxious about your life (12:22), and no servant can serve two masters (16:13). It can and has been argued that these could have come from John. He and Jesus have geographic connections – Wadi el Yabis and the Jordan River. Family wise their mothers are related, both baptize, and both have disciples. Both carry very thematic teachings like care for the poor, repent and baptize, accept sinners, and the coming kingdom. It could be that these were the original teachings of John and are attributed to Jesus because he picked them up when he picked up the Baptist movement when John was arrested and imprisoned by Herod. Luke 3:10-14 is what scholars label as "maybe Q" – at least entertained as being a possible part of Q but not exactly fitting the definition. It is the only major teaching of John scholars can ascribe to him without doubt. This teaching contains many of the same themes as the various other teachings as stated above, attributed to Jesus but without any context. Here one can see John is telling the people if "you have two costs, give one away," that sinners (tax collectors) are welcome in the kingdom also, and not to take money under false pretenses. Luke 7:29-30 is also with the "maybe Q" group of texts. Although set in parentheses, these too sound familiar to 3:10-14 above in that sinners (tax collectors) are accepted because they had been baptized by John and that the Pharisees and the lawyers had rejected God's purpose since they rejected the baptism of John. Given such evidence, one can draw the conclusion that such teachings could be from the original Q source and that the various other out of context teaching running throughout Luke 6, 11, and 12, which are attributed to Jesus, could actually be those of John the Baptist.
For those wanting to dig a bit deeper here is a collection of texts on John the Baptist taken from our various Gospel sources. "John the Baptist in the Gospel Traditions."