Biblical Archaeology Review has just named the "Shapira" Dead Sea Scrolls controversy in its annual  "Top Ten" list of Biblical/Archaeological Stories, see full listing here:
Two major new books, Ross Nichols's, The Moses Scroll and  Idan Dershowitz's The Valediction of Moses: A Proto-Biblical Book, came out within days of one another in late February/early March. Dershowitz also published an academic article available as a free download, see "The Valediction of Moses: New Evidence on the Shapira Deuteronomy Fragments." Neither author knew the other was working on Shapira research–which seems quite remarkably serendipitous!
Both Nichols and Dershowitz argued that the lost "Shapira" Scrolls, declared to be a forgery in 1883, were in fact genuine–and possibly the oldest biblical manuscripts ever discovered. Nichols provides us with a gripping narrative of the whole Shapira saga based on archive materials never before published, including his own transcription and English translation of the paleo-Hebrew with an English translation. Dershowitz offers a detailed philological and text-critical examination of the Shapira "strips," along with his transcription and translation.
The same day Dershowitz's book and article appeared, the NY Times published an extensive story written by Jennifer Scheussler, offering an accessible overview of the entire Shapira saga. If you are not that familiar with the subject that article is a good place to begin–it is on-line here: "Is a Long Dismissed Forgery Actually the Oldest Biblical Manuscript?"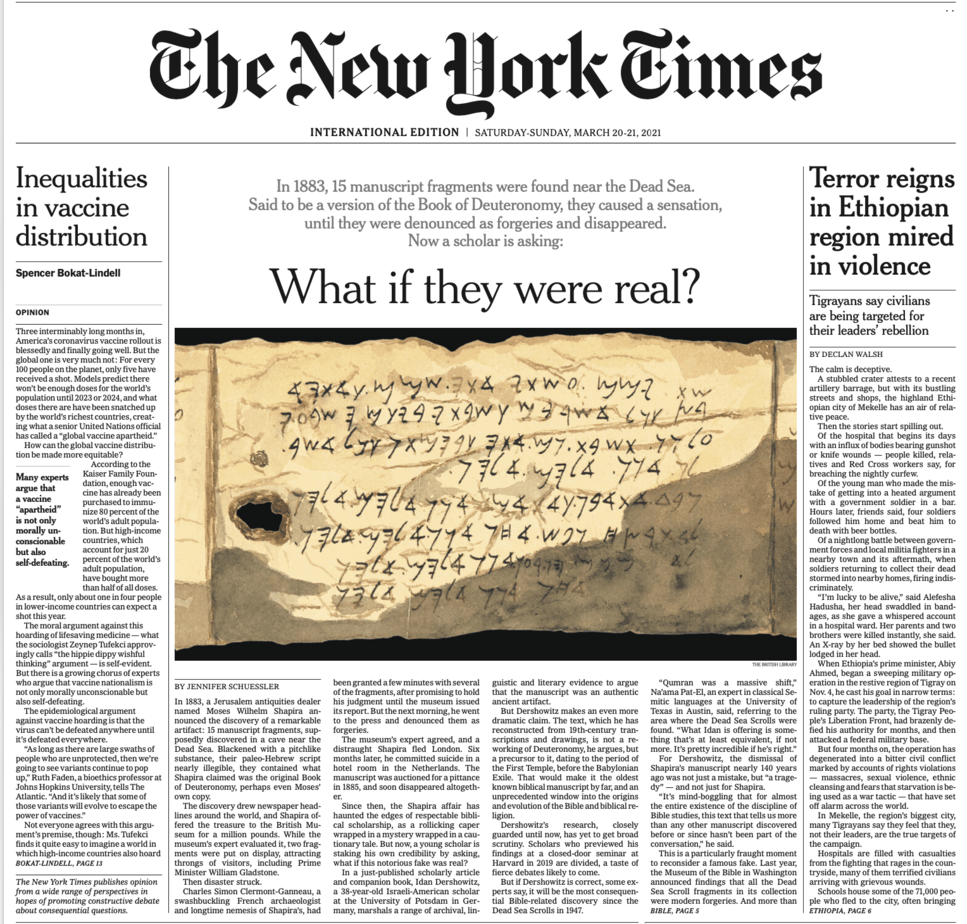 The flurry of articles in reaction to these publications I tried to capture in this "Shapira 'Dead Sea Scrolls' New Roundup," that offers links to the various reactions pro- and con- as well as references to the published work of various scholars prior to 2021. I offered my own autobiographical reflections in this piece titled "Moses Shapira and his 'Dead Sea Scrolls' Last Seen March 8, 1889."
The rest is history. The current Winter issue of Biblical Archaeology Review features two back-to-back feature articles–one arguing for authenticity written by Dershowitz and me, the other laying out the case for forgery, by Ron Hendel and Matthieu Richelle.
Behind the academic scene there are more technical discussions back and forth rehearsing the issues that the Biblical Archaeology Review articles lay out, allowing readers to take as deep a dive as one might wish. Here are the main links:
Matthieu Richelle, "The Shapira Strips in Light of Paleography: Six Impossible Things before Breakfast," as well as his "'No'–A Reply to Benjamin Sass."
Matthew Hamilton, "Reading Notes on 'The Shapira Scrolls: The Case for Forgery.'"
Benjamin Sass, "Can a Unique Letterform Clinch the Authenticity of the Shapira Leather Manuscripts: A Rejoinder to Matthieu Richelle."
Working behind the scenes I am quite aware of new emerging evidence regarding the authenticity/forgery question that will unfold into the New Year 2022. We also have several very solid leads on locating the Shapira strips themselves–which have disappeared from the scene. What is ahead could be even more exciting than what has transpired in 2021. Stay tuned!